Explosives used to stabilise Jersey's Greve de Lecq cliff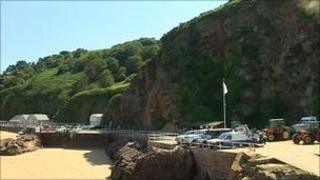 Explosives will be used to remove 1,200 tonnes of unsafe cliff face overlooking a popular bay in Jersey.
The States of Jersey were given the land at Greve de Lecq in 2010 and will spend £500,000 to shore it up.
The rock face, above the boat park and pier at Greve de Lecq, is in danger of collapse if the work is not carried out.
Its former owners could not carry out the necessary work and so it was handed over to the States.
The States of Jersey decided the best solution was to use explosives to remove the rock and build buttresses to hold the cliff up.
A total of £750,000 was set aside to complete the work but the successful contractor will do it for £500,000.
Assistant Minister for Treasury and Resources, Constable John Réfault, apologised for any disruption the work would cause.
He said: "This is a very worthwhile project that is being undertaken by a local contractor and will not alter the appearance of the rock face to any significant extent."
The work is expected to be completed early next year.