Pet dog rescued from house fire in Jersey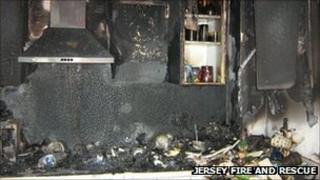 A dog needed veterinary treatment after being rescued from a house fire in St Peter's Valley.
The Jersey Fire Service was called to the house at about midday on Saturday.
Two teams of two firefighters went into the property to fight the fire and to check if anyone was inside.
The crew found the family's pet dog in the living room and it was carried outside and given oxygen before being transferred to a vet for further treatment.
The fire had been contained to the kitchen and was brought quickly under control but it caused substantial damage to the house.
Crew Commander Chris Powell said: "Although the fire in this property was relatively small and confined to the kitchen, all internal doors had been left open which allowed thick black smoke to spread throughout the entire property.
"If at all possible, please remember to close as many internal doors as you can to help prevent the spread of both smoke and fire, should the unthinkable happen."
The cause of the fire was still being investigated.