Royal Navy officer Chris White speaks of Afghanistan role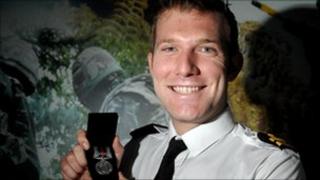 A Royal Navy officer from Jersey who recently returned from Afghanistan said it was difficult to adjust to civilian life.
Lt Chris White, 28, from St Saviour, spent six months working as part of an intelligence team in Kabul.
The former Victoria College pupil volunteered to go there before leaving the forces.
He said he would never forget seeing young children sift through rubbish bags in the street.
His role was to work with Deputy Commander of the International Security Assistant Force (ISAF) General Bucknall and provide him with intelligence support.
And he had to brief ISAF Commander General Petraeus of the British viewpoint on the security situation in Afghanistan and neighbouring countries.
'Unusual place'
He said: "It was the first time I had been deployed to Afghanistan and it was a very interesting team to be working with.
"Last year I was deployed to Iraq where I worked on an oil platform with a team of 75.
"So this time, to be part of the headquarters with all the nations who are involved in Afghanistan, was incredibly different.
"Sometimes our viewpoints didn't always match but it was interesting to hear the discussions and be part of the briefings.
"It was hard work and long hours - we would work seven days a week and sometimes 12 or 13 hours a day but it was a great experience."
Lt White said he was unsure what to expect from Afghanistan.
He said: "It was snowing when I arrived so that was strange and I hadn't thought too much about that before.
"It is a very unusual place - sometimes we would drive out and see little children sifting through rubbish bags on the streets but also there were a lot of signs of change.
"There were girls running around in dresses and we saw children queuing up to get into schools which is a real difference in culture."
But he said he believed life was improving for people living there.
Lt White said the toughest part of his job there was not being able to switch off and relax.
But he said the forces did offer help to those returning from a tour in a combat zone.