Le Rocquier head teacher Richard Rolfe steps down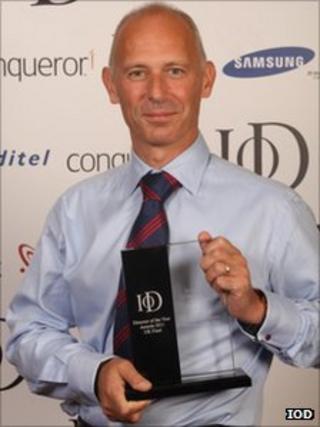 The head teacher of Le Rocquier in Jersey is leaving at the end of the month because of illness.
Richard Rolfe has been at the secondary school for nine years but in May 2010 he was diagnosed with cancer after a routine health check.
He said balancing treatment with school commitments had been difficult and leaving was a tough decision.
Last month 49-year-old Mr Rolfe became the first teacher to win a National Institute of Directors award.
He said: "I am immensely proud of Le Rocquier and I absolutely love my job but I have been finding it hard to balance running a school of 1,000 students and staff with the medical treatment I had to have.
"I have thought long and hard about my next decision and, although I am now feeling a little better than I was last year, I know I really need to spend some time resting and recuperating."
'Inspirational leader'
Mr Rolfe added: "It has been a privilege to work with the exceptional young people at Le Rocquier and I would like to thank them and their families for their support.
"I have also been blessed with an outstanding group of colleagues who are hardworking, dedicated and highly professional."
The deputy head, Phil Slater will be acting head teacher until a permanent replacement is found.
Mr Slater said: "He [Richard Rolfe] almost puts Le Rocquier first and foremost in everything he does, he lives and breathes the school in more ways than one.
"He's been very inspirational for a long time and has made a major major difference to the lives of many students and staff at the school."
Mario Lundy, Director of Education, said: "Richard Rolfe has been an inspirational leader of Le Rocquier and has overseen the transformation of the school.
"He has always maintained a focus on the best interests of his pupils and this has been at the heart of everything he has achieved.
"He leaves behind a secondary school that is not only a vibrant, exciting place to learn but one that is highly regarded by the community it serves."
Mr Rolfe's last day at Le Rocquier will be 31 October.