Two aircraft try to take off at the same time at Zurich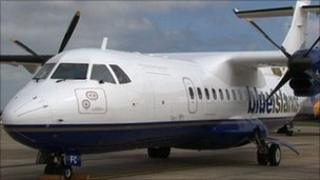 A Jersey-bound passenger aircraft narrowly avoided colliding with a larger plane that was taking off from Zurich Airport in June last year.
The Blue Islands aircraft started its take off run at the same time as a Thai Airways Airbus which was on a different but intersecting runway.
The Blue Islands plane had not been given clearance to take off.
The potential collision was spotted by the pilot of a British Airways plane that was waiting to take off.
The Blue Islands plane stopped and taxied off its runway.
An investigation by the Aircraft Accident Investigation Bureau found problems with radio communications and the alert system.
It also said having two intersecting runways meant mistakes could occur when the airport was busy.
It also found there was construction work going on inside and outside the tower, meaning the working conditions for the air traffic controllers in the tower were different from normal.