Jersey households to get manifestos booklet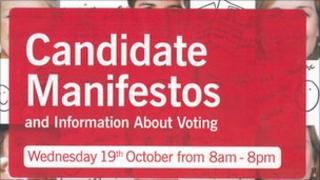 Every household in Jersey is to receive a copy of the manifestos of each of the election candidates.
A booklet with statements from all 82 candidates for the States of Jersey will be delivered in the next few days.
The booklet will also have information about how, where and when people can vote in the election that is taking place on 19 October.
Jersey will vote for all three officers - senators, constables and deputies - on the same day for the first time.
Constable Juliette Gallichan said it would be a useful way for islanders to get information on the election.
She said: "The booklet includes maps to help islanders locate their polling stations, details about the voting process, and information on how to vote in advance of the election and on election day.
"The booklet is the latest part of our ongoing campaign to raise awareness in the lead-up to the 2011 elections."