Jersey's Janvrin primary school gets nature award first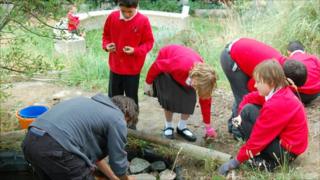 A Jersey primary school is the first in the Channel Islands to receive a top award from the Royal Horticultural Society for its gardening achievements.
Janvrin school, which is a member of the RHS campaign for school gardening, has been working for five years to reach the required level five.
It celebrated on Friday with various gardening activities.
Outdoor environment coordinator, Judith Wakeham said it meant every child in the school had "access to nature".
The school celebrated with various garden activities including making bird feeders out of apples and seeds, bug hotels and working in the pond and nature areas.
Janvrin was given a plaque, certificate and tree which was planted in the grounds.
Mrs Wakeham said: "The school is just absolutely delighted and to be honest we are on a difficult site and we have used every possible area of ground.
"The children are very excited and have been working like little Trojans."
Jacky Chave, RHS Strategic Schools Manager, said they were proud of all Janvrin had achieved.
She said: "Not only will the children get hands-on experience of gardening and growing, but they'll also be able to learn about other subjects, using the garden as an outdoor classroom.
"It will spark their imaginations and lead them to learn so many new things every day."