Soldiers get holidays after walk around Jersey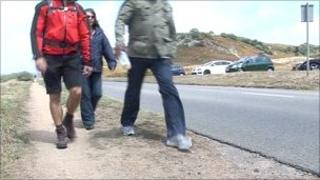 Seven injured soldiers and their families have been able to have a holiday in Jersey in 2011 thanks to round-island charity walk.
Holidays for Heroes was one of the charities to get money from the Itex Rotary Walk.
Each year the event raises more than £100,000 for local causes thanks to the efforts of hundreds of people.
Organisers are asking charities wanting funds from the 2012 walk to apply before 25 November 2011.
Most of the money raised is given to three main charities, with another 10 or so getting a smaller share.
The 2011 walk was the third time Holidays for Heroes had benefited, the first was when the charity launched in 2008.