New stamps show six Jersey wind and water mills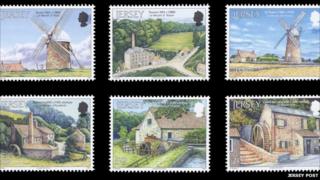 Jersey Post has issued a set of stamps showing six of the island's wind and water mills.
The stamps were painted by UK-based artist Nick Shewring and are the first in a new series of stamps called Jersey Architecture.
Philatelic researcher, Melanie Gouzinis, said Jersey Post had contacted local expert Chris Aubin when preparing the issue to find out the history of the mills featured on the stamps.
Mr Aubin said: "In total, 24 windmills are known in Jersey but many only through documentary evidence.
"Four mill towers survive, all of which were adapted as look-outs by the Germans during the Occupation."
The stamps show Rozel Mill, Tesson Mill, St Peter's Mill, Ponterrin Mill, Quétivel Mill and Greve de Lecq Mill at certain stages of their history.
The Mont Mado Mill is featured on the presentation pack and the first day cover envelope shows Gigoulande.