Election coverage on BBC Jersey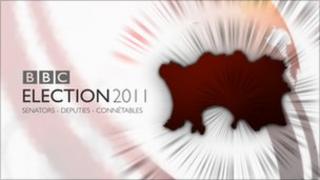 BBC Radio Jersey will be staying on air until all the results are in on election night.
Islanders go to the polls on Wednesday 19 October and BBC Radio Jersey's election programme starts as the polls close at 20:00 BST.
It is the radio programme that the candidates, the officials, and the voters all listen to to hear all the results live as they happen.
BBC Radio Jersey has reporters at every counting centre for the results and the reaction.
Roger Bara will be joined in the special BBC election studio in Parade Road by political analyst Adrian Lee and BBC Jersey's political reporter Christie Tucker.
On TV
On BBC Channel Islands News on BBC One, presenters Clare Burton and Gwyn Garfield-Bennett bring you the Channel Island's most-watched news programmes with an election flavour.
There will be the latest news in the programmes at 18:30 and 22:25 BST on Wednesday evening.
Then they will have all the results and analysis at breakfast time, 13:30, 18:30 and 22:25 BST on Thursday 20 October.
Reporters will be around the island bringing the big stories and the best coverage.
Online
Online at bbc.co.uk/jersey islanders can see all the election results as they come in.
BBC Jersey has built an amazing new online page never used before - it will pull in Twitter reports from all the BBC's reporters around the island, and add in news and analysis.
The BBC's online producers will be wired in to social media to bring you the best web coverage of the election.
Social media
People can follow the main BBC Jersey Twitter account (@bbcjersey) and our special politics account (@politicsjersey) for the big stories straight to your Twitter feed.
If you are following the coverage or at an election count why not use the hash tag #votejersey on election night.