Early voting in Jersey's election 'may improve turnout'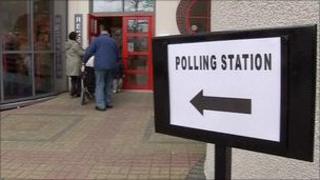 People being able to vote before election day may increase turnout in Jersey's elections, according to a political analyst.
Prof Adrian Lee, who specialises in democracy in small communities, said pre-poll voting should help to encourage more people to vote.
Election law changes mean anyone can vote before polling day on Wednesday.
Prof Lee said: "The idea of a central polling place where people can vote in advance should enhance turnout."
Jersey's election turnouts at the last election in 2008 averaged about 45% - 50% in some parishes and just 34% in St Helier.
Multiple votes
This puts the island turnout near the bottom of the world election table.
The highest turnout in Jersey in 2008 was in St Mary, with 59.5%.
At the most recent island-wide election, where Senator Le Gresley topped the poll, turnout was just 30%.
Prof Lee said there was evidence from recent local council elections in England that pre-poll voting improved turnout.
He said: "The electoral commission tried this about four of five years ago and it did have an increase in turnout."
On 19 October islanders will have more votes to cast at one time than ever before.
Every registered elector will be able to vote for four senators and, depending on the district, may be able to vote for a constable and up to four deputies.