Jersey chef Mark Jordan says Tennerfest not as popular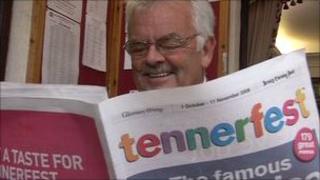 A Jersey chef has said that the annual Tennerfest restaurant promotion is not as popular as in previous years.
The Tennerfest was set up about 10 years ago to boost the restaurant trade at the end of the summer season.
Michelin-starred chef Mark Jordan, who runs two restaurants in Jersey, said he had not noticed as much of an upturn as in previous years.
The company behind the promotion said it was too early to say whether fewer people were eating out this time.
'All-time high'
Mr Jordan said: "Everybody remembers the first few years of the Tennerfest - it was busy, busy, busy all of the time.
"I have felt it down at the Bistro, we still do 20 or 30 covers a day which is good, but as a whole it has tailed off."
Ged Kelly, one of the Tennerfest organisers, said there had been plenty of interest in this year's promotion.
He said: "We judge on the uptake of what restaurants want to come in and we are at an all-time high for the restaurants."