Bergerac celebrates 30 years since first broadcast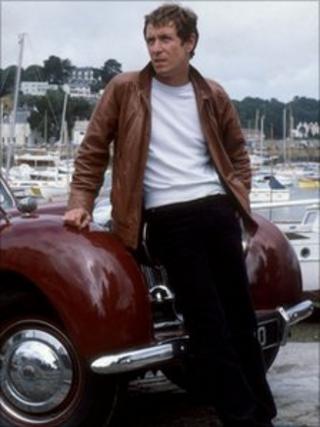 "It was not so much a job I have to say, the 10 years I spent doing Bergerac, it was more like sitting down in front of two tonnes of chocolate and being invited to eat your way through it."
That is the verdict of actor John Nettles, as the 1980s crime series marks 30 years since it was first broadcast.
Nettles played the lead character Detective Sergeant Jim Bergerac in the popular BBC show, which delivered scenes of Jersey into the homes of millions of people in the British Isles each week.
Bergerac ran on BBC One for a decade, and the first episode, shown on Sunday 18 October 1981, was watched by more than 15 million people.
Jonty Sharp, who owns the bar and restaurant used in the series as Diamond Lil's, said it became an attraction for holiday-makers.
'Very drunk'
He said: "They used to come and have their photograph taken outside the front."
Mr Sharp added: "Later on when it went worldwide, a lot of people... from Norway and from New Zealand and Australia would come and a lot more people dined here when it was being reshown."
Nettles said when the first episode was shown he "went out and got very, very drunk on the proceeds".
Liza Goddard played one of the most popular characters in Bergerac, the glamorous jewel thief Philippa Vale who frequently enjoyed flirtatious exchanges with Jim Bergerac.
Goddard recently returned to Jersey with many other members of the cast for a 30-year anniversary reunion.
Talking about her role in the series, she said: "Very rarely in one's career have I read such a script and thought, 'wow, what a fantastic character'.
"I mean she had all these disguises and had great fun with the make-up artist and some of the people in the crew didn't recognise me.
"It was just brilliant and such fun to come here every year."
Jim Bergerac had a string of girlfriends during the decade the series ran.
One of them was Susan Young played by Louise Jameson, who was also in Jersey for the reunion.
She said: "I think what's fantastic about the programme is it keeps it's viewers safe.
"You know you're going to get beautiful scenery, you know you're going to get the plot resolved and you know that right is going to win over wrong."