Colombian vet taught about tamarin care at Durrell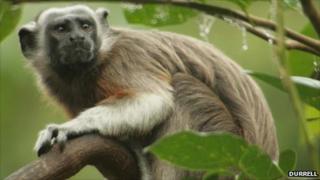 A Colombian vet has been in Jersey to learn more about caring for the endangered white-footed tamarin.
The white-footed tamarin or Saguinus leucopus only lives in Colombia.
The vet, Juliana Peña-Stadlin, has spent two weeks at the Jersey headquarters of Durrell Wildlife Conservation Trust.
She received a scholarship to take part in a five-day primate husbandry course at Durrell's International Training Centre in Jersey.
Dominic Wormell, head of Durrell's Mammal Department, will be returning to Colombia with Ms Peña-Stadlin to find the tamarins living there.
He will share his knowledge by running workshops and visiting some of the institutions that hold the species in captivity.
'Stronger position'
Ms Peña-Stadlin said: "The practical time spent with the vets here [at Durrell] has been invaluable.
"I feel as though I am now in a much stronger position to care for the tamarins and to share what I have learned with my colleagues."
The white-footed tamarin international conservation project was started by Colombian conservationists, some who have trained at Durrell.
More than 60 Colombians have been trained as part of the project and more than 20 enclosures have been built.
These improvements mean captive mortality rates have reduced from 90% to 20%, and now have a number of mother-reared offspring.
Mr Wormell said: "Many of these improvements stem from our specialised knowledge of these animals and our ability to develop skills here in Jersey and then pass them on to people working on the front line, such as Juliana."