Seven jobs to go at Premier Contracting building firm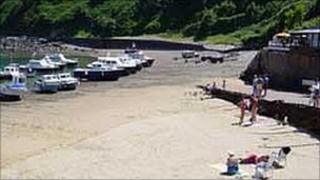 Seven staff at Premier Contracting are losing their jobs because of a planning decision, the company has said.
Westview Developments wants to convert the Cheval Roc Hotel at Bonne Nuit into 22 "affordable homes".
Managing director Peter French said he had been assured that planning permission would be granted.
But a planning spokesman said no decision had yet been made and the application will go before a panel later this month.
Mr French said he had previously met planning officials and adapted plans to deal with traffic, parking and other issues.
'Inconsistent'
But planning said it had already given permission for three houses on the site and recent changes to the planning law would affect development in protected areas.
Mr French said he was unhappy with how the planning process had worked.
He said: "The sad thing is it's inconsistent... we'd like to create further homes for local people without any encroachment into green belt or on a sensitive site in so far as the building is already there.
He added: "What is surprising is with the island's economy in the doldrums that attempts to keep people in work were being blocked.
"We would be creating 22 homes for local people in an island with a severe housing shortage."
Mr French said seven members of staff from the building firm Premier Contracting were being told they were losing their jobs.