Polls closed in the 2011 Jersey election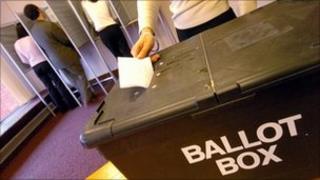 The polls have closed in the 2011 Jersey Elections.
On Wednesday islanders in Jersey have voted for the first time for senators, deputies and constables on the same day.
The new States of Jersey will have a total of 51 politicians - that is two fewer than previously.
Already a third of States members have been returned, including 11 whose seats were unopposed and six who have three years left to run.
More than 3,000 people have already cast their vote in the 2011 Jersey elections.
A pre-poll voting system was introduced for the first time on 19 September, giving people the chance to vote early at a central location.
A total of 2,516 people cast their vote at the station in St Helier, with 517 islanders voting by post.
So far turnout has been high, in St Helier it appeared to be significantly up on recent elections and 66% of the electorate voted in St Martin.
The results are being announced online through a live page and result pages as well as on BBC Radio Jersey throughout the night from 20:00 BST.