King Street Channel Islands lottery kiosk reopens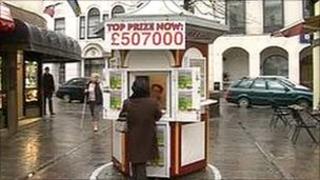 The lottery kiosk in St Helier is reopening to sell the 2011 Channel Islands Christmas lottery tickets.
The King Street kiosk closed in the summer after the tender to run the lottery was won by Scientific Games International and The Global Draw.
At the time, Sue Le Brocq, who ran the kiosk for 16 years through her company Business Agencies, said she had been treated disgustingly.
The kiosk will now be operated by the Channel Islands Co-operative Society.
Darren Scott, strategy manager for economic development, said the previous agent gave their tickets back in June, terminating their agency status.
He said since then they had contacted a number of organisations offering to run the kiosk just up until Christmas.
Mr Scott said the Co-operative Society was chosen to run the kiosk.
The tickets for the Christmas lottery go on sale on Friday with a rolling first prize starting at £300,000, which will increase as more tickets are sold, and will have a scratchcard section with instant prizes.
All profits from the lottery will go to the Association of Jersey Charities.
Liz Le Poidevin, chair of the Association of Jersey Charities, said: "The Association of Jersey Charities has been lucky enough to receive the Jersey share of the Channel Islands lottery profits for many years now and we could not continue our work of helping our member charities without it."