Fishing boat rescued off Jersey coast after breakdown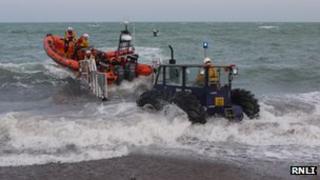 A broken down boat had to be rescued in force seven south easterly winds off Jersey's north coast.
The 10m (33ft) fishing boat, which had one crew member onboard, broke down off Bonne Nuit in choppy seas at around 16:15 BST on Sunday.
The St Catherine's lifeboat got to the stricken vessel within 30 minutes.
Once there, the lifeboat crew checked the condition of both the vessel and the crew member before towing it back to Bonne Nuit for mooring.