Jersey 'needs more internet courses' says tutor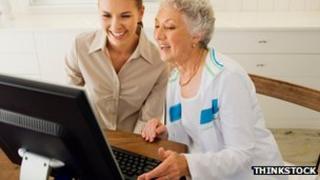 The tutor of an internet course says there needs to be more opportunities for older people to learn about the internet.
Alison Ellis, from Adult Education at Highlands College, teaches computer courses at Age Concern Jersey.
She said: "We run usually at least two classes a week and I've always got a waiting list.
"But when we get a waiting list we try to put on extra courses but when the college prospectus does come out, people sign up fairly quickly."
A BBC campaign, Give an Hour, aims to help those who have never used the internet.
The idea is that people who have "gained" an hour by the clocks going back can donate it by helping to show someone how to get online.
The BBC is challenging people to give their extra hour to introduce someone to the internet for the first time, be it a parent, grandparent, neighbour or friend.
Research shows 22% of people who listen to BBC Radio Jersey never go online.
All this week BBC Radio Jersey is following 67-year-old Sonya Paton from St Saviour, Jersey, as part of "Give an Hour".
She will be sharing her experiences as she gets to grips with the internet.
Go to www.bbc.co.uk/giveanhour to find out more about how to give someone you know your time.