Jersey Harbour Master Captain Howard Le Cornu steps down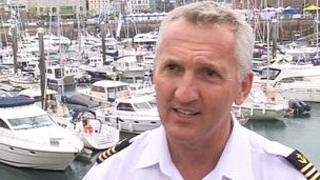 The chief executive and Harbour Master at Jersey Harbours is stepping down.
Captain Howard Le Cornu will be leaving the role at the end of March 2012 to pursue new business opportunities in the private sector.
He joined Jersey Harbours in 2001 as Deputy Harbour Master and was appointed chief executive officer in 2005.
Doug Bannister will take over as Harbour Master and Airport Director when he is sworn in by the Royal Court next month.
Until his departure, Captain Le Cornu will be working with Mr Bannister to deliver a number of new commercial ventures and will continue to represent Jersey Harbours on strategic naval and maritime affairs.
A spokesperson for Jersey Harbours said that during his time there, Captain Le Cornu transformed the business to one with guaranteed long-term viability and reduced staff numbers by half.
He was also responsible for creating the three operating brands of Jersey Harbours - Jersey Coastguard, Port of Jersey and Jersey Marinas.
And he was pivotal in creating the Channel Islands Coastguard and the Jersey Boat Show.