Jersey murder accused Damian Rzeszowski remanded in custody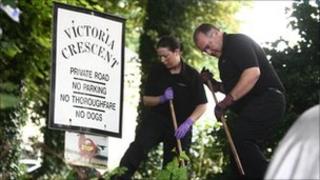 A man accused of murdering six people in a multiple stabbing attack in Jersey has been remanded in custody after a court hearing.
Damian Rzeszowski, 30, is charged with murdering his wife and two children, his wife's best friend and her child, and his father-in-law in St Helier.
During a hearing at Jersey's Royal Court, he appeared via video link from a secure facility in the UK.
He is due to reappear before the Royal Court on 19 March.
Izabela Rzeszowska, 30, and her children, five-year-old Kinga, and two-year-old Kacper, Marek Garstka, 56, Marta Dominika De La Haye, 34, and her five-year-old daughter Julia Frances were found with stab wounds at a flat in Victoria Crescent on 14 August.
The court heard Mr Rzeszowski would undergo a medical assessment prior to his next appearance.