Jersey hoppa bus service could cost £500,000 annually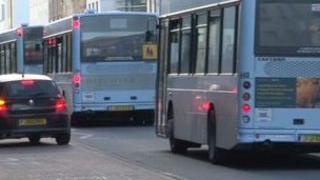 Providing extra buses too soon in St Helier could cost the island £500,000 a year according to the transport department.
Politicians have been warned to wait before deciding on a hoppa bus service.
There have been repeated requests for Jersey's transport department to provide a hop-on, hop-off bus service after a trial more than a decade ago.
Transport officers asked States members to hold off until the current bus contract expires in 2013.
The hoppa service is an aspiration in the North of Town Master Plan to help ease traffic, and is also due to be part of the tendering process for the new bus contract which starts in 2013.
St Helier Deputy Geoff Southern wants the next transport minister to ensure it is a free service, or at least a fixed low charge and that zero or low emission vehicles are used.
He also wants States money set aside every year for it.
A note from the department to the States said that if Deputy Southern's plan was accepted and the new bus implemented before the new bus contract could be negotiated, it would commit the government to spend £500,000 a year.
Transport and Technical Services is inviting tenders for a new bus contract to start in January 2013.