Jersey company wants telecom money available to all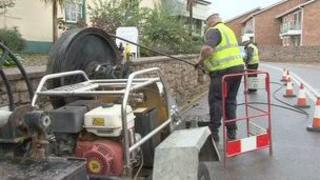 A telecom company said plans to invest public money into improving Jersey's broadband speed should be opened up to other companies to bid for.
The treasury minister wants to invest millions in a faster broadband network by government owned operator JT.
Senator Philip Ozouf said it would create new business opportunities.
Clear Mobitel, which has a licence to operate next generation mobile internet, said other companies should be allowed to try to get the funding.
The telecom company JT Global wants people living in Jersey to back a project to install fibre optic broadband technology to every home.
Jersey's treasury minister said he wanted to use public money to set up the network because it would attract new businesses.
Andrew Elston, from Clear Mobitel, said: "If that kind of money is available from the public purse then it would be better for the government to seek to get market proposals to upgrade public broadband.
"It would get better value for money and increase competition, at the moment there is no competition in the broadband market in Jersey."
JT announced last year that it planned to launch gigabit broadband by 2016 and was investing more than £40m to replace all of Jersey's copper cables with fibre optic cables.