Jersey garages may have to display fuel prices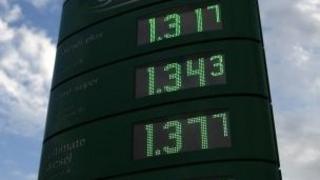 Petrol stations in Jersey could be forced to display fuel prices at garages after a States vote.
The idea was suggested by the island's competition regulator, to help keep the price of fuel low.
Only nine of 34 garages on the island currently display their fuel prices, the consumer council says.
The States approved the initial proposition by Senator Alan Breckon which was later backed by Alan Maclean, economic development minister.
Senator Maclean had initially said the move was not necessary, but changed his mind.
A review into petrol prices by the Jersey Competition Regulatory Authority (JCRA) found that fuel in the island was among the highest in Europe.
The Jersey Consumer Council said in June that the average cost of petrol in Jersey was £1.20 a litre, with a huge difference in price between garages.
John Curran, from the JCRA, said only nine of 34 forecourts in Jersey clearly display the price of their fuel.
Mr Curran said: "We have quite low taxes and duties on fuel in Jersey compared to most other countries and to get a like-for-like comparison we have stripped out taxes and duties to understand what the underlying cost of fuel is and on that basis the price we pay here is amongst the highest in Europe."