GCSEs 'not best way of measuring performance'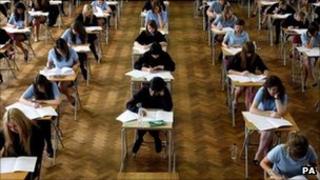 A former head teacher has said Jersey should adopt a similar system to the UK in measuring pupil achievement over time and not just on GCSE results.
The breakdown for GCSE grades for Jersey schools have been published for the first time.
They show Grainville School is performing worse than most schools in England and Wales.
Richard Rolfe, who recently left Le Rocquier School, said measuring a child's potential would be better.
Mr Rolfe said: "Not all children will get A*s. At Le Rocquier last year and the year before we had children getting 11 A *s and 10 As and I know that is true for Grainville and Haute Valle.
"Parents want a view of how effective schools are and therefore a range of measures should be produced so people can make those judgements."
He said schools in the UK used a "value added" system, which measured the progress a student made between different stages of education.
It involves looking at a number of aspects of a child's background and education to generate a score. This is then used to look at how much they should be expected to achieve.
Grainville saw 13% of its pupils get five A* to C GCSEs, including English and maths in 2011.
Education Director Mario Lundy said that getting poor results in English and maths would not stop young people finding work and that employers did not just look for good exam results.