Jersey's outgoing chief minister to unveil duck statue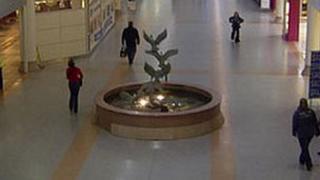 A sculpture of ducks in flight has been moved to the Jersey airport roundabout and will be unveiled by the outgoing chief minister.
Unveiling the relocated statue, called Decollage, will be the final act of office by Senator Terry Le Sueur.
He will reveal the artwork on Monday at 11:15 GMT, just hours before States Members elect a new leader.
The sculpture was the centrepiece of a fountain in the airport's departure lounge, but was removed in 2009.
It had been kept in storage until enough money was secured to move it to the roundabout outside.
Senator Le Sueur said he was honoured to receive the invitation to unveil Decollage as one of his final duties as chief minister.
He said: "I was disappointed when the mallards had to leave their original location in the Airport, and kept pressing for some way of achieving their return to the Airport area, where they symbolise flight.
"I am pleased that they can now be seen by everybody, and I am delighted to welcome the sculpture back."
Les Johnson, the sculptor responsible for Decollage, said: "I hope the sculpture will continue to give pleasure to the people of Jersey, and I look forward to revisiting the Island and seeing the mallards flying again."