Jersey Post stamps cheaper for Christmas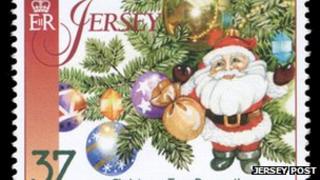 Jersey Post is selling stamps at a reduced price in the run up to Christmas for the first time.
From Saturday until 10 December, customers can buy local standard letter stamps for 35p instead of 37p, a 5.4% saving.
And UK standard letter stamps will be 10% cheaper at 45p instead of 50p.
The stamps are from a special Christmas issue which feature a range of traditional Christmas tree decorations painted by UK artist Colleen Corlett.
Jersey Post chief executive Kevin Keen said: "Jersey Post recognises that it plays a key part in helping families keep in touch at Christmas and I hope that our postage promotion will encourage more people to put pen to paper this year."
'Huge boost'
Meanwhile Jersey Post is working with the Association of Jersey Charities to run a charity Christmas card shop at Broad Street Post Office from next Monday until Saturday 17 December.
Jersey Post employees including senior managers and directors will take turns at running the shop.
Lyn Wilton from the Association of Jersey Charities said: "Many local charities do not have a retail presence... and so rely on one-off Christmas fairs and events.
"The prolonged and central presence at Broad Street will be a huge boost to local charities and their fundraising efforts and we're all very grateful to Jersey Post, especially those employees who will be giving up their time to help."