States of Jersey vote in three new ministers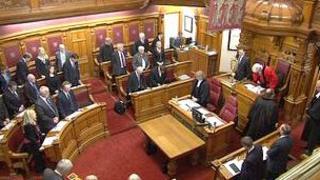 The States of Jersey have chosen the members of the council of ministers after two days of debate.
Deputy Kevin Lewis is the new transport and technical services minister, beating St Peter Constable John Refault by 25 votes to 23.
Other new council of minister members are Deputy Patrick Ryan at education and Senator Francis Le Gresley at social security.
States members voted in the other six ministers back to their seats.
Senator Philip Ozouf beat the chief minister's choice Senator Ian Le Marquand by two votes to retake his treasury minister seat.
Deputy Andrew Green was returned as housing minister after beating Deputy Montfort Tadier.
Senator Alan Maclean remains economic development minister after seeing off a challenge from Deputy Mike Higgins.
Senator Ian Le Marquand kept his seat at home affairs beating Deputy Jude Martin.
Deputy Rob Duhamel returns as planning and environment minister and Deputy Anne Pryke beat three other politicians to gain the seat at health.
All ministers voted in with the exception of Senator Philip Ozouf and Deputy Kevin Lewis were the choice of the new chief minister Senator Ian Gorst.
The States will return on Tuesday to appoint the chairman of privileges and procedures, the public accounts committee, the five scrutiny panels and the overseas aid commission.
On Thursday, the assembly will reconvene to make the appointments of the presidents of the chairmen's committee from the chairman appointed and the members of panels and committees.