States of Jersey appoints scrutiny panel members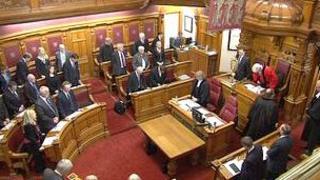 Jersey's politicians have met to appoint to the scrutiny panels.
Deputy Tracey Vallois was elected President of the Chairman's Committee, which heads the government review panels.
All five scrutiny panels have elected members, although there will be further nominations for environment once the assistant ministers are known.
One former minister, Deputy James Reed, will serve on the corporate services and health panels.
Two former panel chairmen, Deputies Trevor Pitman and Geoff Southern, do not have roles within the system at the moment.
The meeting to elect panel members lasted 30 minutes.
Chief challenged
As well as electing scrutiny members, politicians had to vote for members of the states employment board.
There was a challenge to the chief minister's choices for the board.
As Chairman of the Board, Chief Minister Senator Ian Gorst had the pick of who goes on the panel.
He appoints two ministers or assistant ministers, and nominates two others.
His choices of Constable Deidre Mezbourian and Deputy John Le Bailly faced unsuccessful challenges from Deputies Shona Pitman and Montfort Tadier.
With the chairmen of privileges and procedures and overseas aid away from the chamber, members of those committees will be chosen next month.