Jersey States assistant ministers are announced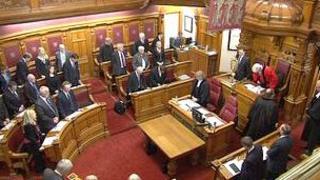 Jersey's new chief minister has confirmed the 14 States members that will become assistant ministers.
Senator Ian Gorst also announced that Senator Ian Le Marquand would be his deputy chief minister.
Earlier this month, States of Jersey voted for the 10 politicians that would make up the council of ministers, including the chief minister.
Senator Gorst has now completed the council with the announcement of the assistant ministers.
There are 14 assistant ministers in total across the 10 departments, with some members like Deputy Carolyn Labey and Constable John Refault taking up more than one post.
States members spent three days deciding on the make-up of the government and scrutiny panels.
Senator Gorst said "It has become apparent to me in the last two weeks that changes are needed in the machinery of government.
"In the medium term, the system needs to be amended to allow more States members to be involved in the decision-making process.
"In the short term, I have asked ministers to consider whether they have any work streams that could be tackled by working parties, which could include a cross section of States members, not just ministers and assistant ministers."