Saturday saw an 'immense increase' in St Helier shoppers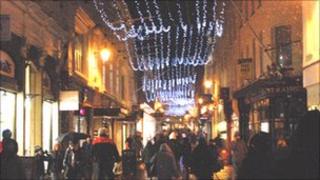 There were 10,000 more shoppers in St Helier on Saturday compared to the same time last year.
Foot fall figures for Saturday show there were 43,436 people in King Street.
Cameras to count the amount of people shopping in King Street were installed about three years ago. Since then cameras were installed in Beresford Street and Conway Street.
Town centre manager Richard Mackenzie said it was an "immense increase".
But he said the foot fall only shows the amount of people in St Helier and not the sales figures.
He said the weather was also a factor in the numbers because this time last year there was snow in Jersey.
Mr Mackenzie said the first of the late night Christmas shopping evenings on Thursday was quite successful.