Jersey Christmas festival returns for 12th year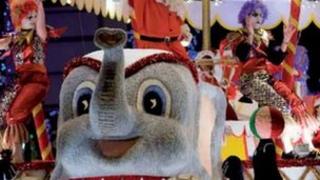 Jersey's Christmas festival, La Fete de Noue, starts on Thursday when the Christmas tree lights are turned on.
Returning for the 12th year, the mid-winter celebration takes its name from Jersey Norman-French and literally means The Christmas Festival.
The lights are being switched on in the Royal Square in St Helier at 18:00 GMT.
There will then be a Samba Parade down to Weighbridge Place for the launch of the Christmas Market and the lighting of a "tree" of glowing spheres.
'Russian princesses'
Over the course of the festival a number of activities will take place including street art, late night shopping and wassailing.
From Thursday to Saturday "beautiful Russian princesses in glowing white costumes" will parade in the town centre.
And at the weekend two sparking snowball sprites will "whizz speedily round in a flurry of excitement throwing handfuls of blizzard as they go".
The ice skating rink will also be making a return to Parade Gardens from Saturday 10 December.
And a number of Christmas movies including The Polar Express and It's a Wonderful Life will be screened at the Jersey Arts Centre on 10 and 11 December.
The Fete de Noue will finish on Sunday 11 December with "The Spectacular Christmas Parade" running along La Route de Liberation, around Liberation Square and finishing along the Esplanade.
The parade features floats from the Battle of Flowers covered in twinkling lights with music and dancing bringing everything to life.
The launch of the Christmas festival last year had to be cancelled because of heavy snowfall.
The 2010 festival was due to launch in West Centre on 2 December but the lights were turned on without a ceremony instead.
In contrast Jersey is now facing hosepipe bans and the prospect of importing water from Norway due to a long period without any significant rainfall.