Jersey residents warned of open chip pan fire risk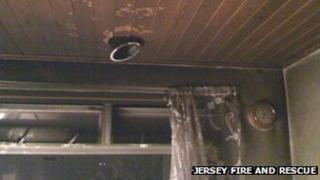 A homeowner inhaled an "unnecessary amount of toxic smoke" while trying to tackle a fire in an open chip pan.
The States of Jersey Fire and Rescue advise people not to try to tackle fires and putting their safety at further risk.
Crew Manager Craig Channing said it is frustrating islanders still use open pans which can catch alight easily.
"If you use a chip pan it is essential that you do not leave it unattended," he said.
"Deep fat fryers contain a thermostat which prevents the oil from reaching a temperature where it can catch fire and are therefore far safer.
"They can be bought for as little as £20, which is far cheaper than the cost of repairing the damage caused by a fire.
"The stench of a chip pan fire stays for a long time and gets everywhere, please help yourself and throw out your chip pan today."