Deadline for Jersey pensioners' David Kirch vouchers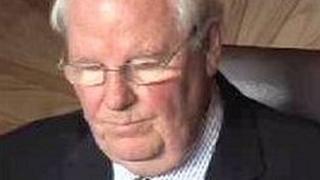 Jersey pensioners have been warned they have until 16 December to collect their £100 Christmas shopping vouchers donated by a multi-millionaire.
For the past six years, David Kirch has given more than £4m in vouchers to people over the age of 70 in Jersey.
This year - for the first time - he has had to borrow money to continue the annual gesture.
The vouchers are available for people over 70 to collect from parish halls around the island.
In a statement, Mr Kirch said this year had been the toughest and said money had to be borrowed for the scheme to continue. However, he would not say how much he had needed to borrow.
In the last census, one in 10 of the island's 88,000-strong population was aged 70 or over.
Mr Kirch said: "With ever increasing costs, I do think this year the vouchers are needed and while I have had to borrow the money to give it away, which I know sounds odd, I am happy to have been able to do it."
He turned 70 in 2005 and decided to celebrate by offering the money to others who had reached the same age.
He moved to Jersey in 1973 and has had a successful career in property.