Jersey chef guild is launched by Highlands College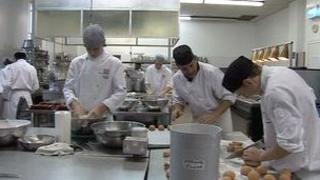 A new organisation for professional chefs has been launched in Jersey by Highlands College.
The college said it launched the Craft Guild of Chefs to promote the island's hospitality industry and local restaurants.
Highlands Academy of Culinary Arts trains people of all abilities.
Eileen Buicke-Kelly from the academy said: "We do everything from training local chefs to managers and on to wine courses."
The Craft Guild of Chefs will also include association members, so anyone working in hospitality in Jersey can be involved.
"We are not just going to be part of the UK, we are having our own Jersey branch that will put Jersey back on the map with high-profile chefs," said Ms Buicke-Kelly.
The academy has students joining from schools at 16. Some have ended up in Michelin-starred restaurants after leaving at 18.
Ms Buicke-Kelly said: "Our latest young man, Glenn Noel, is now working in the Atlantic Hotel, did a great job at the college and was a finalist in the UK young chef of the year."
The college also works with Jamie Oliver's 15 restaurant in London and one student went on to do an 18-month contract with the restaurant.