Jersey school bus tickets to rise by 10p per journey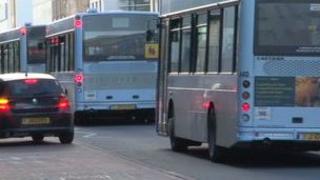 It will cost Jersey pupils an extra 10p to travel by bus to school from January 2012.
School bus tickets are increasing from 60p to 70p for a one way journey or £7 for a book of 10 tickets.
Tristan Dodd from the transport department, responsible for the bus service, said there had only been two increases in the past decade.
Mr Dodd claimed it was still good value for money for children to get the bus instead of being driven by parents.
He said: "The subsidy for the school bus fare is higher than other fares because we think it is right to help students.
"It is also right to encourage parents not to make dedicated trips to school."