Jersey Charity Auction back at the BBC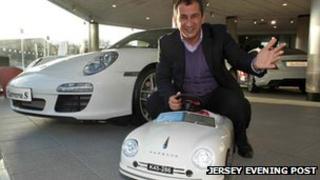 The Jersey Charity Auction is returning to BBC Radio Jersey after five years away.
The event started on BBC Radio Jersey in 1984 and has been broadcast every December since then - but has been covered by Channel 103 since 2006.
It is part of the Jersey Christmas Appeal and more than 250 prizes are up for auction - all in aid of local charities.
It is run collectively by Rotary, Rotary de la Manche, the Lions Club of Jersey and the Soroptimists.
The money raised will buy fuel vouchers, food vouchers and toy vouchers for needy families in Jersey.
This year's lots include meals at a number of local restaurants, 750g of chocolate and a litre of ice cream a month for a year.
There are also luxury lots which include a pair of three-day grandstand tickets for the 2012 Formula 1 British Grand Prix.
The auction will be broadcast on BBC Radio Jersey (88.8FM, 1026MW), from 09:30 until 16:30 GMT on 11 December.