Ex-chief minister calls for smaller States of Jersey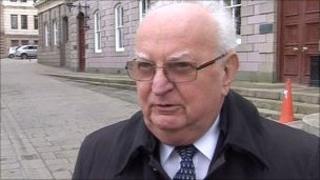 Jersey's last chief minister has said he thinks the island's government should be reduced in size.
Terry Le Sueur has called for a smaller States chamber, made up of 24 senators and just 12 parish representatives.
But the former senator did not say whether his vision would see an end for constables or deputies in the States of Jersey.
He gave his views during a speech at a meeting of the Jersey Chamber of Commerce on Wednesday.
Mr Le Sueur claimed there was a lack of entrepreneurial spirit and a reluctance to take risks in the States compared to when he became a politician 24 years ago.
The States of Jersey is currently made up of 10 senators, 12 constables and 29 deputies.
But the number of senators will drop to eight in 2014.