Jersey charity auction raises £43,188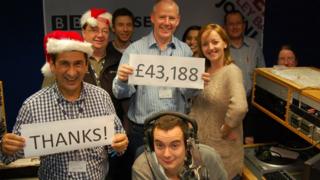 The Jersey charity auction raised £43,188 for the annual Christmas appeal, the highest amount ever raised in the event.
The total included £32,108 from the auction as well as donations from islanders and £6,020 from "pledge a wedge".
Lots ranged from stilt-walking lessons to a tour of the police headquarters.
Organiser Murray Norton said he was humbled by islanders' generosity despite the recession.
Community effort
Mr Norton said: "It is amazing, I would have been delighted if we had got half of that.
"It was a fantastic community effort with Jersey's community looking after its own people."
The event was organised by BBC Radio Jersey and the Association of Jersey Charities with help from the Rotary Club of Jersey de la Manche.
Pledge a wedge made a return to the event for the first time in five years and involved people making a £10 donation in return for a ticket to the holiday prize draw.
The scope of the holiday was enlarged as more people donated money.
Eileen Gerriais won a week in New York with a helicopter ride followed by a week in Florida with return flights to Jersey.
Mrs Gerriais was out buying Christmas cards for her sister who lives in New York when she found out she had won the prize.
She said: "I am shaking, I can't believe it, it is absolutely wonderful, unbelievable."