Saumarez Park playground may be updated if money found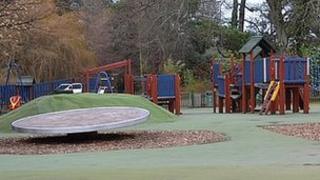 A new playground with separate play areas and equipment for toddlers, juniors and teenagers has been proposed for Guernsey's Saumarez Park.
Environment Minister Peter Sirett said he hoped building work would start in the spring, subject to people and businesses providing the money needed.
Islanders will be invited to view the plans in January with the project expected to cost more than £500,000.
Deputy Sirett said finding the money would be "a major challenge".
He said: "The new playground is a very exciting prospect for the island's children and our visitors.
"Both visually and in the range of experiences it offers to different age groups it would be very different to any other play area in the Channel Islands - it will really capture children's imagination.
"We have to get the community to realise that this facility is going to be very well used by our children, it's going to provide them with something they won't get anywhere else and it's going to make them feel very proud to be part of Guernsey."
The current playground was installed in 1993 and was privately funded through the Lions Club and local companies and trusts.