Jersey homes flooded and roads closed in heavy storm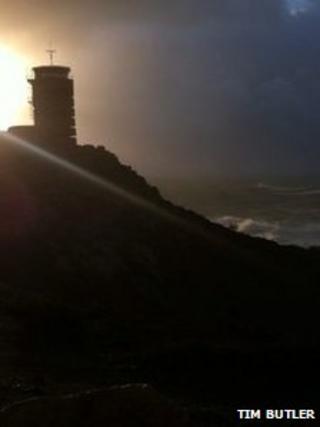 Homes in Jersey were flooded and roads closed after heavy winds and rain hit the island overnight.
States of Jersey Police said there was flooding and debris including leaves and branches on the roads after trees fell.
Transport and Technical Services has been clearing roads overnight but says many are still slippery.
Items needing clearing included a large trampoline in St Ouen and trees in St Lawrence.
Jersey Met Department said there had been an inch of rain at the airport and winds had reached 69mph (111km/h).
Met officers said the worst of the wind had now passed but there was more heavy rain forecast for the next few days.
Insp Alan Williamson, from the States of Jersey police, said: "Please allow extra time for any required journeys and leave plenty of distance between yourself and the vehicle in front, braking gently and in good time."
He said he had been surprised to find officers had to speak to several motorcyclists who were driving on the roads in high winds.
The busiest period for emergency services was between 22:30 and 02:00 GMT when the majority of incidents were reported.
These included flooding in St Brelade and St Peters Valley, a tree down in St Mary and a large tree and flooding on La Rue de La Frontiere in St Lawrence which led to the road being closed.
John Rogers, from Transport and Technical Services, said the biggest problem had been flooding in St Peter's Valley near Tesson Mill, but no homes were affected.
A block of flats at the bottom of Old Trinity Hill in St Helier flooded. Richard Ryan, from the fire service, said they had pumped the water out.
Mr Rogers said the clean-up was not as bad as they had expected it to be.
Jersey fishermen are missing out on one of their busiest times of year because of the poor weather.
The enhanced content on this page requires Javascript and Flash Player 9
Map Key
Land
Cloud
Lakes, Rivers & Sea
Fog
Light
Heavy
Frost
Light
Heavy
Pressure Fronts
Cold
Warm
Occluded
Rain
Light
Heavy
Extreme
Snow
Light
Heavy
Temperature tab only
Temperature (°C)
More details from BBC Weather