Jersey challenges end of Low Value Consignment Relief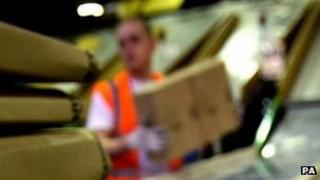 The States of Jersey will start a legal challenge over the UK's ending of Low Value Consignment Relief, according to the economic development minister.
Senator Alan Maclean said he had a duty to protect the interests of the island.
The UK Chancellor George Osborne announced last month that the relief for commercial parcels valued at under £15 would end from April.
HM Treasury has estimated the change would bring in an extra £90m in tax.
Internet shopping
Senator Maclean said more than 1,000 people were employed in the island's fulfilment industry, which includes receiving, warehousing, repackaging and sending products.
The Low Value Consignment Relief threshold was reduced from £18 to £15 for all non-EU territories on 1 November.
The ending of the relief, announced last month, affects just the Channel Islands.
The system was introduced in 1983 with a threshold of about £5 as the cost of collecting the VAT on such small value items outweighed what it brought in for the UK Exchequer.
The growth of internet shopping and relocation of some UK companies to take advantage of the relief prompted some to criticise the Channel Islands as a base for the "exploitation" of the system.
Estimates by HM Treasury found the UK did not receive £130m in 2010 due to the relief, although that did not take into account the cost of collection.