Jersey's desalination plant switched off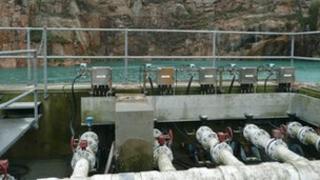 Jersey Water is switching off the plant which turns the sea into drinking water after heavy rainfall.
The desalination plant was switched on on 2 November after a dry late summer and autumn.
Jersey Water had also drained Val de la Mar Reservoir to work on the dam, adding to the lower than normal levels of stored water.
The firm said rainfall so far in December was approaching double the average for the month.
Jersey Water said the month's rainfall was more than had fallen in October and November combined.
'Below average'
Last month the company also considered a hosepipe ban and other water restrictions.
But heavy rainfall over the past few weeks has allowed reservoirs to refill from 35% to 60% full.
Howard Snowden, managing director of Jersey Water said: "The significant and heavy rainfall that has occurred in December so far has had a good impact on reservoir water levels.
"However, it shows how unpredictable rainfall patterns are becoming and, whilst reservoir water levels are now 60% full, they are still below average for the time of year.
"We remain concerned about the rainfall levels in the first quarter of 2012, which will be crucial to ensure the reservoirs are full to take us safely through the summer of 2012."
He said the plant might need to be restarted in January.