Jersey children get teddy bears from Freemasons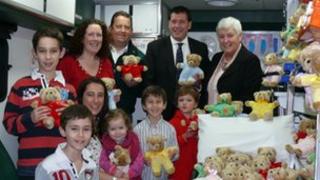 Children going to Jersey's hospital will be given teddy bears, thanks to a donation by the Freemasons.
The group has given 400 teddies to States of Jersey health and social services and they will be shared between the various departments.
Lead nurse for children Ann Kelly said it would make hospital visits "a little brighter for children".
This is the first time Jersey has joined in with the national scheme first launched in 2001.
Ken Rondel, Provincial Grand Master of Jersey Freemasons, said: "We hope that the bears supplied will be enjoyed by lots of children, and that they will find that a cuddly toy takes their mind off being at a medical appointment or being in a strange environment and they can take the bear home after their treatment.
'Lovely idea'
"This is an initial donation of bears and when the stocks are depleted we will provide further bears as required."
Ms Kelly said: "It is a lovely idea and we are very grateful for the Freemasons for thinking of us.
"Although our staff always try to put our young clients and patients at their ease, the bears will make visits to our services a little bit brighter for children."
Teddy Loving Care is a national initiative which began in Essex in 2001, and has since spread to a large number of Masonic provinces.