Winning lottery ticket bought in Jersey Co-Op or kiosk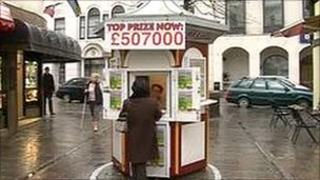 The winning ticket in the Channel Islands Christmas Lottery draw was sold by the Channel Islands Co-operative Society in Jersey.
Darren Scott from the States department that runs the lottery said it could have been bought in any Jersey Co-Op shop or the King Street lottery kiosk.
The top prize of £751,500 still remains unclaimed after Thursday's draw.
The second prize of £50,000 was claimed in Guernsey, and the third prize of £25,000 was claimed in Jersey.
More than two million tickets were sold in this year's lottery and it is thought to have raised more than £400,000 for charities in Jersey.
The winning ticket was number 1455646, but no one has come forward yet to claim the top prize.
Mr Scott said the winner has a year to claim their prize.
He said there had been a delay in claiming the prize before, but there had never been an unclaimed top prize.