Calls to the Jersey Samaritans double in three years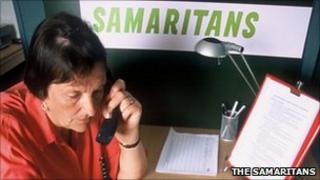 Calls to the Jersey Samaritans helpline have doubled in the past three years.
Boyd Bennie, the charity's director in Jersey, said this was due to the global financial crisis, which began in 2008.
The Samaritans' annual survey found 58% of people feared they would not have enough money to live comfortably in the the coming year.
It also found 36% worried about losing their job, or not finding work. Mr Bennie said the Jersey branch was contacted about 22,000 times a year.
He said the Christmas period could be particularly busy.
'Socially isolated'
He said: "We know that the holidays can sometimes bring on strong feelings for many people. That's why we stay open when others close."
"Some of our callers are socially isolated and the Christmas period can increase their feelings of loneliness. Others express feelings of loneliness despite being surrounded by friends and family.
"There can be an enormous amount of pressure to be happy during what is meant to be a time of celebration, even if individuals are in fact going through personal difficulties.
"Also, people can find the emphasis on 'family time' hard if they have particularly difficult relationships with their relatives."