Jersey will 'not be sad to see the end of 2011' says Bailiff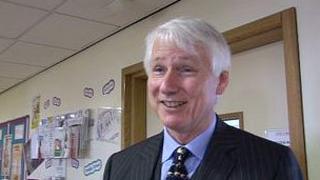 The year 2011 may be a year lots of islanders would like to forget, says Jersey's Bailiff.
But he said people in Jersey have a lot to be thankful for.
In his Christmas message, Michael Birt said a combination of recession, unemployment and the shocking murders in the summer had spoiled the year for many people.
He said: "I suspect that many people will not be sad to see the end of 2011."
But he said islanders' generosity and sense of community had helped to overcome many problems.
Mr Birt said: "Christmas is a time for reflection and an opportunity for us to take stock, reminding ourselves of all that has happened in the world, it allows us to appreciate the relative peace and stability we enjoy in Jersey."
'Hectic months'
Meanwhile, Jersey's new Lieutenant Governor said he had been overwhelmed by the amount of time and money islanders give to charity.
But he has warned unemployment and high costs of living mean those charities will have to work hard to keep up with demand.
In his Christmas message, Gen Sir John McColl said he had only been in the island for three hectic months, but that had been long enough to appreciate the generosity of Jersey people, and the difficulties they face.
Meanwhile, Jersey's Catholic Dean, Monsignor Nicholas France thanked islanders in his Christmas message.
He said the sympathy and care they showed towards the Polish community in Jersey after the stabbings in August helped bring communities together.
'Difficult time'
Jersey's Chief Minister has used his Christmas message to pay tribute to Jersey members of the armed forces serving overseas.
Senator Ian Gorst said the festive season could be a difficult time for servicemen's families too, if they are apart.
The senator also praised the work of the island's essential service workers, who make sure the island is maintained while other people have their holidays.
The Christmas messages are being broadcast on BBC Radio Jersey on the Christmas Day breakfast show.