Beach polo tournament to be held in Jersey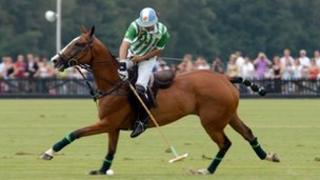 There are plans for an international beach polo event in Jersey.
The States is being asked to relax the rules on horses on the island's beach to allow it to go ahead.
At the moment horses are banned from Jersey's beaches from 10:30 BST and 18:00 BST from 1 May to 30 September.
But the economic development minister, Senator Alan Maclean, wants to make exceptions after a request from Jersey Pottery to host what is described as a "major horse event".
Jersey Pottery wants to run an international beach polo tournament in St Brelade's Bay next September.
Senator Maclean, who is the minister with responsibility for tourism, said it was a good opportunity for the industry.
He said the event would be directed by a former England polo captain and would attract international players.
The States of Jersey will debate whether to allow the rules to be relaxed at the sitting on 31 January 2012.