Jersey bus fares will rise by 10p from 2 January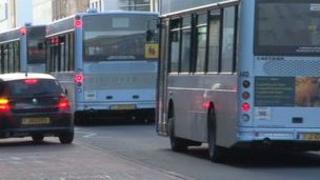 A rise in bus fares in Jersey will be used to run more services to the countryside parishes, says the transport minister.
Short journeys will cost an extra 10p from 2 January 2012, going up from £1.10 to £1.20.
Evening fares, which are currently at a flat rate of £1.10 after 19:00 ,will no longer be discounted and the full fare will need to be paid.
But the cost of longer journeys will stay the same.
Jersey's new transport minister Deputy Kevin Lewis says the extra money will be re-invested in the service.
He said: "Everything is concentrating on St Helier going east and west but we're trying to improve all the services going up to L'Etacq, St Mary, St John, Trinity, St Martin, everywhere and all points in between."
Deputy Lewis said the service was improving all the time.
He said: "Take the parish of St John for example, in 2009 this parish had nine bus services per day Monday to Saturday and no Sunday service.
"St John now has a total of 31 services per day Monday to Saturday... and Sunday services."