Jersey Hospice hope to beat Christmas tree collection record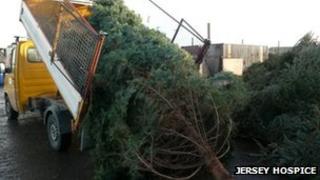 Jersey Hospice has called for people to donate their Christmas trees to the charity in a bid to beat last year's record total.
In 2011, 1,600 trees were collected to be recycled, which raised £23,000 for the hospice.
Islanders have until 20:00 GMT on Thursday to register for the service.
Louise Reynolds from Jersey Hospice said they needed volunteers to drive vans and donate their time and fuel over the weekend.
Jersey Hospice provides free palliative care for patients with cancer and motor neurone disease. Its running costs are more than £6,000 a day.
'Easy solution'
Islanders can arrange to have their Christmas tree collected in return for a donation to the charity and all the money raised goes to the hospice.
Melanie Le Maistre, assistant manager of recycling at Transport and Technical Services said: "Last year quite a few Christmas trees were left out for collection with household rubbish and this isn't the right way to dispose of your tree.
"The hospice collection is an easy solution and it also means your tree is recycled into local compost by the States of Jersey."
Ms Reynolds added: "In the event of bad weather, please leave Christmas trees where originally stated on your registration form and our volunteers will be there to collect them as soon as possible.
"If it carries on being really windy, make sure they're secured down so they don't blow away."
Jersey Hospice will collect the Christmas trees from businesses on Wednesday and Thursday and from homes over the weekend.